Hemophilia of Georgia Center for Bleeding & Clotting Disorders of Emory with Emory University School of Medicine Department of Hematology and Medical Oncology present Clinical Practice Updates in Hemostatis and Thrombosis.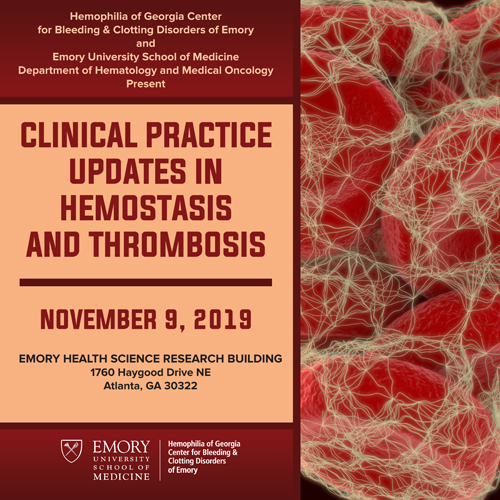 Clinical Practice Updates in Hemostasis and Thrombosis is designed to provide practitioners with information on the diagnosis and management of inherited and acquired hemostatic and thrombotic disorders along with new medication updates. Diagnostic and therapeutic approaches will be explored via interactive case discussions.
This educational activity targets practicing hematologists/oncologists who diagnose and treat patients with congenital and acquired hemostatic and thrombotic disorders as well as interested internists. Download the brochure.
The conference will be held in the Emory Health Research Sciences Building Auditorium (1760 Haygood Dr NE, Atlanta, GA 30322).


HSRB 1st Floor, Rollins Auditorium
Emory Health Sciences Research Building
1760 Haygood Drive
Atlanta, Georgia 30322
Milini Mingo
404-727-3612